Afore Capital is hiring it's first full-time investor. It is the perfect opportunity for an angel investor, operator, or venture investor with an inclination for high risk and autonomy to fully realize their investing instincts. We invest in pre-traction, pre-revenue, pre-obvious companies with a passion. Join us if you feel the same way!
Please apply if this describes you:
– You have 1+ years of investing experience, as an angel or an operator with a passion for sourcing and helping tech founders,
– You are raising your first fund but wondering if you'd benefit from a partnership without losing your autonomy,
– You are at a VC fund today, but you don't know if you are on a partner track, you are talented and wondering if you can be on a faster track,
– You have the risk appetite to invest pre-traction, you have the ability to source founders earlier than others, you are analytical in your assessment, and you are a learn-it-all,
– You not only want to invest but you also want to help build a firm, and own it with us,
– You respect diversity, are open minded, and happy!
Afore Capital is a 5 year old, pre-seed focused fund with $125M in AUM across two funds. Afore started in 2016 to focus on pre-traction founders that are caught in the widening gap between what they are raising and what the VC market is offering. Afore writes seed-size lead checks at a stage materially earlier than seed. Afore was fortunate to pioneer the Pre-Seed stage in modern venture capital that has become extremely popular among founders.
Today, Afore's 60 portfolio companies have a market cap >$8.5B, have raised >$1.3B in follow-on capital, where Afore has an initial ownership ~10%. Notable unicorns in the portfolio are Modern Health (Founders Fund, Kleiner Perkins, Battery) and BetterUp (Iconiq, Lightspeed). Along with fast risers Overtime (Andreessen Horowitz, Spark), Flatfile (Scale, Two Sigma), Retain (Emergence), Hightouch (Iconiq, Amplify, Bain), Osana Salud (General Catalyst), Petal (Valar) and many others.
Afore was co-founded by Gaurav Jain and Anamitra Banerji – both engineers by training and founding product managers at Android Nexus and Twitter respectively. Between the two of them, they have 16 years of operating experience and 18 years of institutional investing experience prior to starting Afore.
Afore companies have raised $1.3B after Afore's original pre seed investment. Help us take this to the next level!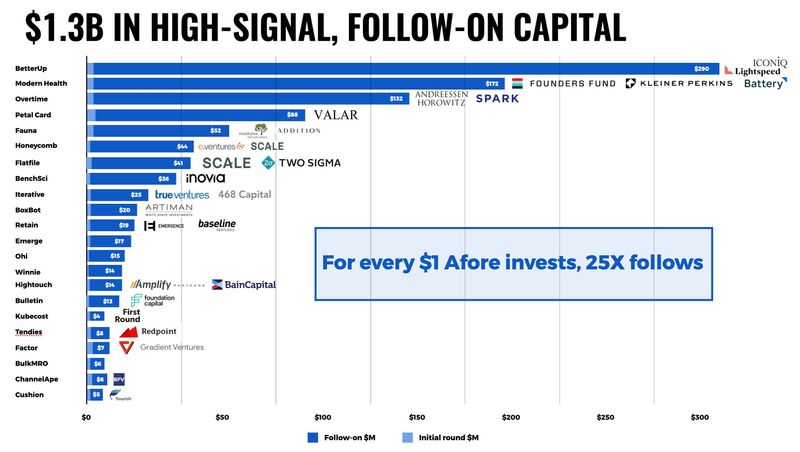 If interested, please apply here.